Formicidae of the United States
This page provides links to ant species checklists for some U.S. states.
You can find state specific ant information by clicking on a location on the map or by clicking on a state name on the table below the map. More states will be added as I am able to find and post state checklists. All of the lists represent work done by others to collect, compile, and publish state species lists. If you need to reference a checklist in a publication you are preparing please be sure to properly cite the original work.
The uneven coverage of available checklists for the U.S. states partially reflects our current knowledge of the ants of North America. There remain large geographic areas that are still poorly collected, described, and characterized. There are also numerous undescribed species and groups of sibling species that require definitive taxonomic treatment.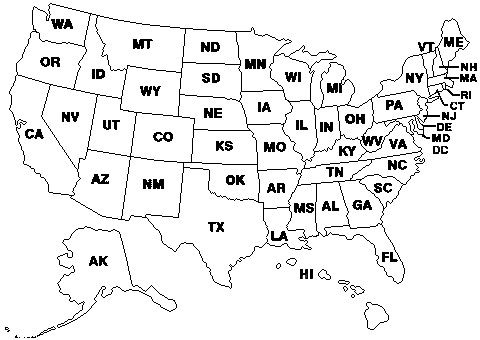 <!STATE TABLE STARTS HERE>
| | | | | |
| --- | --- | --- | --- | --- |
| | | | Arkansas | |
| Colorado | | Delaware | | Georgia |
| | Idaho | | | |
| | Kentucky | | Maine | |
| | | | | |
| | Nebraska | Nevada | New Hampshire | New Jersey |
| New Mexico | New York | | | Ohio |
| Oklahoma | Oregon | Pennsylvania | | South Carolina |
| | Tennessee | Texas | Utah | Vermont |
| Virginia | Washington | West Virginia | | Wyoming |
Ant genera of the United States
---
If you have any questions or comments about these lists please send an email to:


Some state parks and lakes around the U.S.: Island Beach State Park, NJ | Joe Pool Lake, TX | Salisbury Beach State Park, MA | First Landing State Park, VA | Ortley Beach, NJ |